Healthcare Foundation of LaPorte Grant
to create an outdoor space for reading, conversations and games,
plus  a community garden space for everyone to enjoy.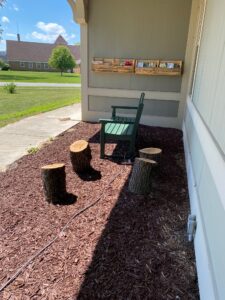 This outdoor space has started to take shape. The mulch has been replenished and weeds pulled. There are book shelves available for magazines and books. These can be read while enjoying the fresh air or traded when finished with something from home. The green bench is courtesy of the Solid Waste District of LaPorte County. Miss Sacha was able to send it our way after her last plastic bag collection. (Nov. 2021)
The wooden stumps are for seating at the game table which still needs to be purchased. Chess and checkers will be available in the library when the table arrives.
The area is sheltered during the rain, and there is a light during the twilight hours while the parking lot lights are on.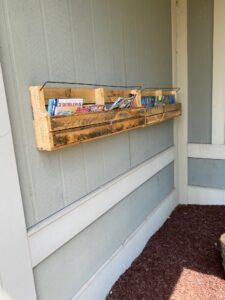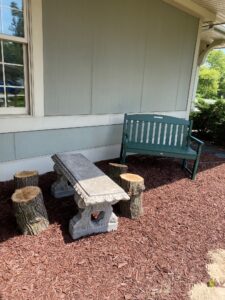 We've added some more pieces to our outdoor space. We have book shelves with books and magazines for reading, sharing or trading. A table/bench has also been added. We have checkers and chess boards and playing pieces for those who would like to indulge in a game or two. Hopefully soon a game board will be added permanently to the table/bench so when the Library is closed a game can still be had, with pieces invented by the players.
Plants were donated by the Kal-Bro Farms, LLC.
Beds constructed on Wed., June 29, 2022
Plants planted on Thurs., June 30, 2022
Wed., July 20, 2022 Tomatoes, watermelon, green peppers and jalapeno peppers are blooming. The jalapeno peppers have some fruit on the plant.  Eggplant, cabbages and cucumbers are growing.
 
Wed., August 3, 2022 Everything is blooming now! We have tomatoes on the vine (hidden in the greenery) and a baby watermelon. YUM.
If when you pass by, check it out, there could be something ready to take home and enjoy.
Mon., August 29, 2022 – We are picking cucumbers, jalapeño peppers, green peppers, and eggplant. The watermelon, tomatoes, and cabbages are growing and will be ready soon. All are welcome to the bounty!
Mon., Sept. 19, 2022 – We have some produce now a regular basis. We guesstimated 20# of produce this year. We are over that amount already, the watermelon that was picked put us at approximately 28#.  The tomatoes are really producing well, red and yellow. Still a few watermelon to pick, plus the cabbages are getting bigger everyday.
Friday, Oct, 14, 2022 – With the threat of frost or snow, I picked all of the tomatoes on the vines. Oh my gosh! There were a lot of them. Some are a little ripe, others not so much, but they will ripen. If you need some tomatoes, red or yellow, please stop by the library.
Oct. 17, 2022 This is the end of the garden for this year. We collected over an estimated 44 pounds of produce since the beginning. I hope that you were able to partake in some of what was grown. We had watermelon, tomatoes, cabbages, green peppers, jalapeño peppers, eggplant, and cucumbers.
December 28, 2022 Our artwork for the outside
space has been completed by Nina Snyder.
This is a nine patch barn quilt. The corner and center blocks are called the railroad block.
These blocks represent the 5 railroad lines
crossed La Crosse.
Thank you to the LaPorte Healthcare Foundation for providing the grant funding.